Industry Leading Forklift Licences Brisbane
Learn, Train & Work With Forklifts in Brisbane
Workplace safety is one of the primary reasons why accredited forklift tickets are required in Brisbane. As heavy pieces of equipment, they pose a number of health and safety risks to operators and workers alike. Trained, certified and experienced operators help to minimise the risk of accidents, injuries and lengthy operational downtime.
At HOST Safety and Training we provide workers with superior quality forklift licence training in Brisbane. Our courses are designed to meet the highest safety standards, and those who successfully complete them will receive an accredited forklift ticket that is recognised in all workplaces throughout Brisbane. Get in touch to learn more today!
Choose HOST Safety & Training Today
HOST Safety and Training are a leading RTO offering a range of accredited and non-accredited safety courses, including forklift licence training. Brisbane clients can book in for group or individualised operator training.
Our trainers are highly experienced professionals that recognise the importance of quality forklift training in Brisbane. Delivering theoretical and practical instruction, they work with each student to ensure they understand all aspects of their new role as a forklift operator. Students who successfully complete see greater improvement in:
Cultural change around safety
Knowledge retention of our students/your employees
High return on investment
We also have a passion for building strong relationships with our clients and can offer ongoing support and training maintenance for employees. Whether you need a high-risk work licence or want to upskill your existing employees, HOST Safety and Training have the solution for you!
Contact us today to see how we can help you make safety a top priority!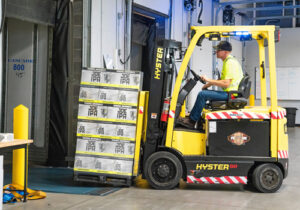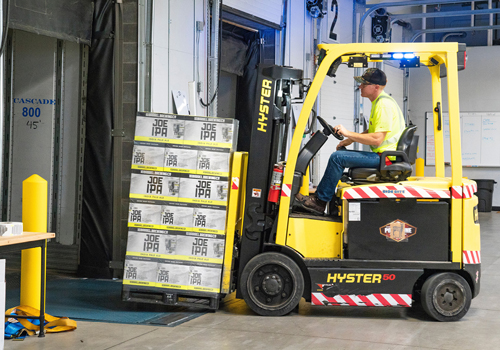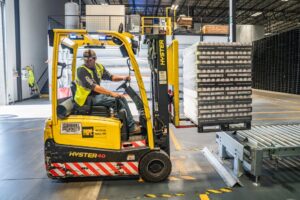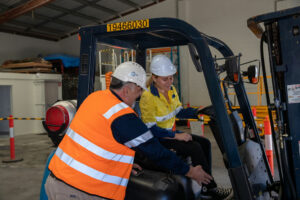 The Importance Of Forklift Training in Brisbane
Today, the need for qualified holders of forklift licences in Brisbane is greater than ever. However, there is often thought that forklift operation is simple. Forklift trucks are powerful pieces of machinery that involve a number of hazards.
Operating a forklift without a licence is a health and safety violation that can lead to a number of serious accidents. These include falling loads, overturning trucks, operator injury and the damaging of delicate equipment.
Forklift licence training from HOST Safety and Training is a nationally recognised course that qualifies workers to operate a forklift anywhere in Australia. Completing training with us ensures that you receive the highest standard of education from the best trainers in the industry. From risks to local legislation, our passionate and knowledgeable trainers take participants through every aspect of forklift operation to ensure they are ready for the workplace.
Learn More About Our Brisbane Forklift Licences
Take steps to a promising new career. Get in touch with us today!
Improve Safety & Efficiency With Forklift Training in Brisbane
Health and Safety within the Brisbane forklift industry are paramount. Professionally trained and certified workers have a greater awareness and appreciation of safe working practices, minimising the risk of damage, serious injury and operational downtime, thereby maximising working quality and increasing business efficiency.
Our forklift licence course in Brisbane covers a variety of crucial skills and knowledge, that promote:
Good judgment and decision-making skills.
Being able to follow directions with a high degree of accuracy
Ability to use tools and forklift equipment.
Successful hazard and risk identification
Be honest, ethical, and hardworking.
Upon completing our forklift course, participants will receive a Nationally Recognised Statement of attainment for their units of competency. This shows that personnel are capable of operating a forklift truck safely and professionally.
Applying For A Forklift Course?
It is required to have a national high risk work licence (HRWL) to operate a forklift. To obtain this, you will need to be trained and assessed at a Registered Training Organisation (RTO). To apply you must meet the following criteria:
Age
Applicants but be at the age of 18 years old and above before forklift licence application
English Understanding
Effective communication is vital to absorb information during the training course. As such, trainees must have basic knowledge in both verbal and written English.
Proof of Identity
Must present evidence of identity before getting accepted for training and applying for a forklift licence.
Unique Student Identifier
All trainees must be in possession of Unique Student Identifier (USI ). This is a unique reference number is given to trainees who are undertaking vocational education training, like forklift driving.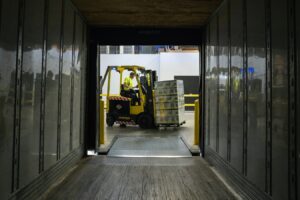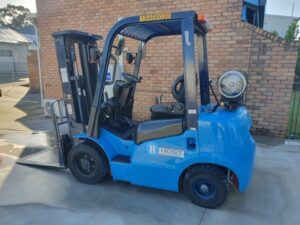 Expert Forklift Training In Brisbane
With years of industry experience and educational expertise, we offer a number of superior safety-related training courses to clients across Brisbane. With our quality courses, we aim to bring awareness to the importance of proper working processes and help to transform workplace safety for the better.
Our purpose-built facilities and dedicated trainers are among the best in the industry, ensuring each participant is fully trained and certified to confidently perform forklift operations in their relevant industries. We strive to create a friendly, supportive and practical training environment where students and employers of all experiences and backgrounds can train comfortably.
We value our clients and continuously encourage development in all aspects and work to exceed expectations. We deliver the best possible customer experience – from the moment you book to when you receive your qualification.
Frequently Asked Questions
Book Your Forklift Course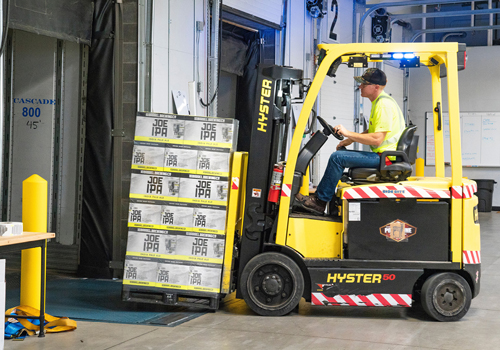 Book Your Forklift Course
What Our Clients Say
CLIENT TESTIMONIALS AND HAPPY STUDENTS